St. Vincent Guest House is situated in the heart of Bethlehem, Palestinian Autorithy Area, 10 km far from Jerusalem. The Daughters of the Charity of St. Vincent de Paul manage the guesthouse. Originally, the guest house was founded in order to provide fixed income needed to meet the expenses of the adjoin orphanage La Creche (that in French means "the cradle"), also managed by the Daughters of the Charity, offering welfare services services for children and people from all over the Palesinian Authority Areas.
Settled in the heart of Bethlehem, in John Paul II Str., St. Vincent Guest house is an excellent place to stay in order to visit the town. The building is new: finished in the year 2000, it has 4 floors connected by a lift. Wide external spaces,open-air courtyards, terraces and gardens are a peculiarity of the house. The reception is at the ground floor, provided with a large hall with armchairs and TV. At the second floor, a roomy veranda offers an unique sight of town and the surrounding hills.
A huge self-service equipped dinning room ready to serve meals to more than 120 persons in the same time.
On the whole, the guest house has 36 rooms with 2 and 4 beds, with total occupancy of about 88 persons. In a comfortable athmosphere, St. Vincent Guest House welcomes groups, families and individuals.
Saint Vincent Guest House is an ideal pilgrim and tourist service facility, where pilgrims and tourists can find a very comfortable accommodation with warm welcome and high quality service and hospitality. With a good panorama of the view of adjacent cities and hills and surrounded by green nature and by the Church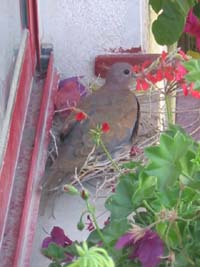 of St. Vincent de Paul you can be quite sure of staying in a calm place having some rest and meditation in the same time. If you wish to visit Bethlehem, St.Vincent Guest House, will be the best choice of a place to celebrate Valentine's Day where you really deserve to be guests in. And to make everything perfect, here are some ideas for next Valentine's Day.
Even birds feel the hospitality and security at our place!

Also, it is possible to visit the several activities of La Crèche (see the page to learn more about it): we will be glad to show you our work!


Please contact us for more informations.